Last Updated on August 15, 2022
You've spotted a cheap flight but it's with Spirit Airlines and you have a feeling there must be a reason that flying Spirit is cheaper.
Yes, there is a reason…
Spirit is cheap because you are not buying the same thing. It's like comparing apples and oranges.
Let's look at the reasons why Spirit is an ultra-low-cost airline and see if you can or can't save some money on your next flight.
How Are Spirit Ticket Prices So Much Cheaper Than Competitors?
You know when you go to a fancy restaurant and they have a pre-set menu. It will have a pre-selected list of dishes all for a fixed price.
The price is high but it includes a starter, a main course, a dessert, and coffee. It might even include drinks too.
That's how airline fares have traditionally been sold. Flying in the early days was something only rich people did. It was normal for people to expect a full service with everything included.
Restaurants also offer an "a la carte" menu where you can choose what you want. If you don't want an appetizer then fine don't order one. If you don't want a dessert then it's your call. You can pick and choose what you want and what you don't want.
Flying with Spirit airlines is more like flying a la carte. Their advertised bare fare price is just for the flight with very few extra amenities.
The following are extra items on the Spirit menu that you can choose:
Seat selection – If you want to make sure you avoid the middle seat or sit next to your family you'll need to pay extra to choose a seat
Extra legroom – If you don't want to be cramped then you can choose a seat with extra legroom. This is more important for tall people or for long flights.
An Extra Wide Seat – You can upgrade to The Big Front Seat that is wide and super comfortable.
Bringing a Larger Carry-On Bag – Spirit's bare fare only lets you bring one personal item that is 33 liters. A regular carry-on on most airlines is usually around 45 liters so it's a squeeze.

You can pay an extra fee

to bring a huge 64-liter carry-on, but you probably don't own a bag this size.
Checking a Bag – You can also bring a checked bag but there is a charge for that too.
Printing Your Boarding Pass – If you need Spirit to print your boarding pass they'll charge you $10 to do it.
Drinks and Snacks – No snacks or drinks are included. Water costs $3.
Changing Or Canceling Flights – If you need to change the date of a flight or cancel a flight there are fees involved to do that. Flights are non-refundable.
Many people that fly with Spirit end up purchasing something extra.
(Video) Does Spirit Airlines SUCK!?
You know that time when you were going to skip dessert but you changed your mind because it looked so tasty?
That's what happens when people fly Spirit.
Spirit's Profit Comes From The Extra Charges
Almost 60% of Spirit's revenue doesn't come from selling flights.
Spirit makes more money from all the extras than they do from the flights.
This is the business model of a low cost carrier:
Make the fare price as low as possible to win the business and bring in the customers.
Make the profits on the backend by charging high prices for extras.
Some travelers are outraged by this. Why is my tray table so small! How dare they charge $40 to bring a carry-on! It's more than ticket!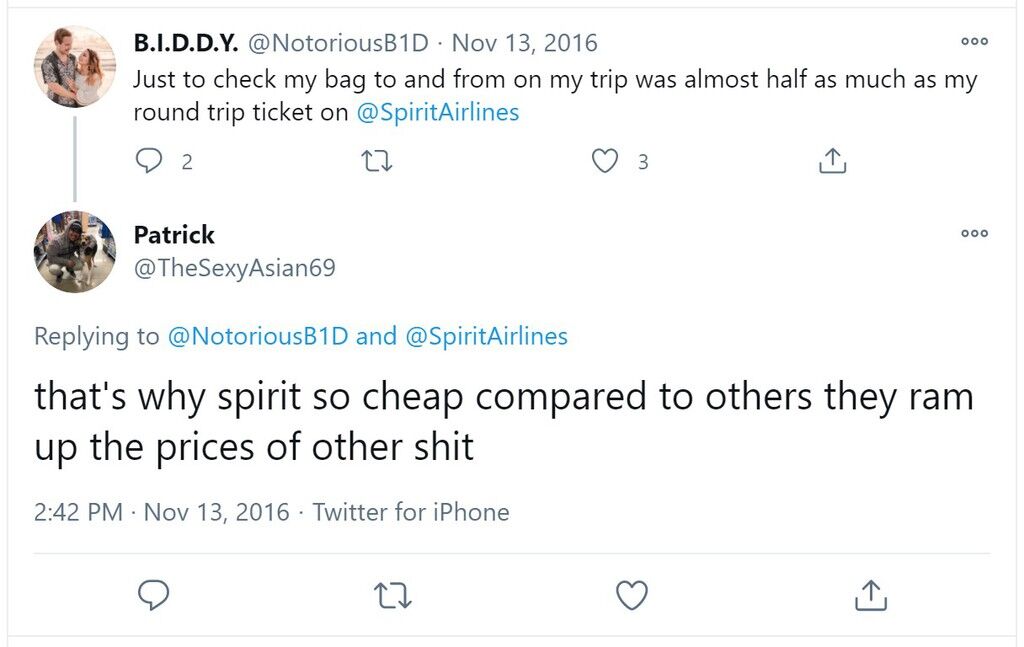 It's a pricing model that can cause a lot of anger if a passenger gets a nasty surprise:
It seems Gina was flying with a bag that exceeded the 18 x 14 x 8 inches limit.
You can understand under the circumstances why Gina wasn't reading the small print.
Spirit charges $65 for a carry-on bag upgrade purchased at the boarding gate and that seems to be what happened here.
Carry-on bags can cost more like $25 if you plan ahead. And if you travel light you can avoid the fee altogether.
Other people like Lexia don't see the problem:
(Video) How Budget Airlines Work
In fact, Spirit Airlines provide a chance to fly somewhere for a very cheap price IF you are prepared to pack light, to sit in a middle seat, and maybe to not be as comfortable as you'd like for a few hours.
The $9 fare club also helps to bring down the cost of flights and extras.
If you want to fly Spirit Airlines you need to be a student of Spirit Airlines. You need to know where and how they will try to hit you in the pocket. You can then decide if that charge is acceptable to you, or if the inconvenience is acceptable to get cheaper travel.
The Truth Is Spirit Is Not Always Cheaper
Look at what happened to Don: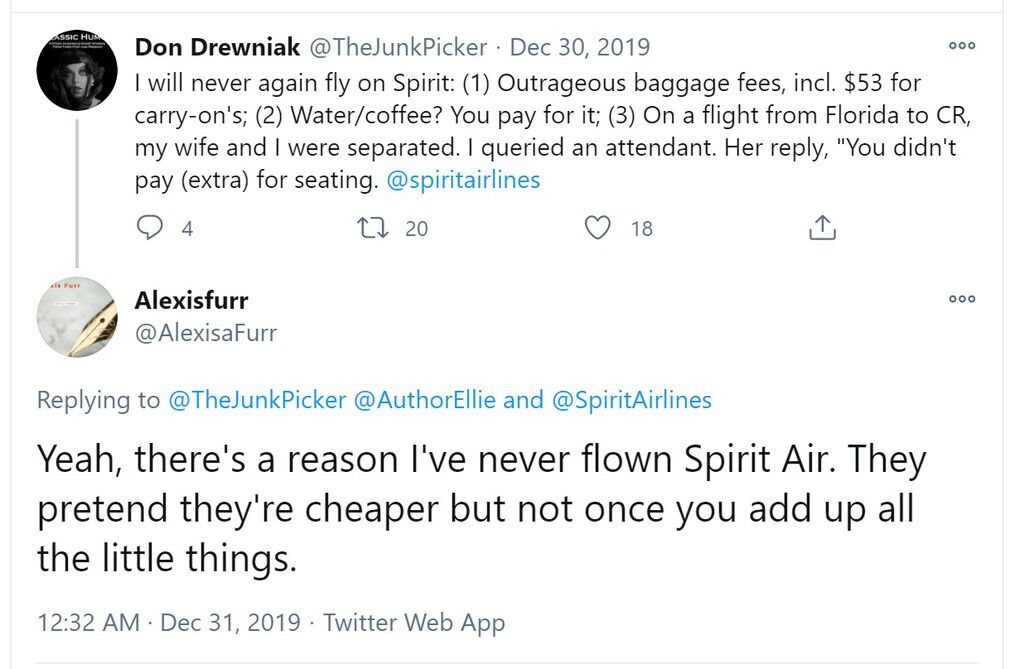 Don didn't do his research so he was surprised about these charges and that he wasn't sitting next to his wife.
Alexis said that Spirit isn't cheaper if you add up all the little things.
But the little things are optional.
If you can fly with the smaller personal item bag that goes under the seat in front you don't need to pay extra for carry-on bags.
If you are happy to not sit next to your wife for a few hours then you don't need to pay for an assigned seat.
If you can download a movie to your iPad ahead of time then maybe you can live without in-flight entertainment.
If you can send the boarding pass to your phone, or use the Spirit mobile app then you won't need to print it out at the airport.
Yeah go to any restaurant and order the starter, the main course, the dessert, coffees, and a bottle of wine then your bill will add up to be just as much as the set menu.
(Video) Flying Spirit is about to go from BAD to WORSE…
So how much do you want the extras? That's the question. Can you live without them and save money?
One Area Where There Is No Difference
There is nothing to worry about from a safety perspective.
It's as safe to fly Spirit as any other US airline. Spirit might not give you free peanuts but the FAA would not allow them to fly if their aircraft were not safe and their crew well trained.
So don't assume that because your Spirit Airlines Flight fare is cheap that the aircraft are not well maintained. They are!
The Verdict
Spirit flights are cheaper than other airlines because they have a different business model.
Airlines like Spirit keep their fares as low as possible to win your attention and get you to commit to flying with them.
After that everything is about maximizing the profit.
But if you know where the traps are and how to avoid them then you can enjoy a cheap flight with Spirit.
Spirit is not the only airline pricing like this. Airlines like United and American Airlines have started copying the business model with their Basic Economy tickets.
At least with Spirit you know they are an ultra-low-cost carrier. Check the reviews for United Basic Economy and you'll see what I mean. Passengers are getting sucker-punched right, left, and center because they don't see it coming from the legacy airlines.
So Spirit may or may not be cheap depending on which extras you can't live without. Start by learning to travel light and it will be a good first step.
Did This Page Help You?
NO
(Video) Tips for Flying on Spirit Airlines (+ Our NIGHTMARE Experience) | Spirit Airlines Review 2022
(Video) I FLEW ON AMERICA'S WORST AIRLINES BACK TO BACK!
People Also Ask
How much does a carry on cost on Spirit?

Is Spirit Airlines safe?

How bad is Spirit Airlines?

Where is Spirit Airlines based?
FAQs
Spirit Airlines fleet has an excellent safety record. There have been no fatal accidents involving Spirit Airlines aircraft in the last ten years. Overall, Spirit Airlines is a safe airline to fly in 2022.
Is Spirit a low cost airline? ›
(stylized as spirit) is a major American ultra-low-cost carrier headquartered in Miramar, Florida, in the Miami metropolitan area. Spirit operates scheduled flights throughout the United States and in the Caribbean and Latin America.
What is the controversy with Spirit Airlines? ›
The company offered a sale inspired by disgraced politician Anthony Weiner, deals that referenced an alleged prostitution scandal among Secret Service agents and an ad featuring a suntan oil-slathered woman in the wake of the 2010 Gulf of Mexico oil spill that urged travelers to "check out the oil on our beaches." ...
Is it better to fly Spirit or Delta? ›
Winner: Delta

Put simply: Delta is the best U.S. airline to fly during the pandemic. Alaska, United and JetBlue all performed above average, and Spirit Airlines performed worst of all.
Are Spirit flights uncomfortable? ›
Spirit's seats are still generally less padded than other airline seats, which can be brutal for any flights longer than an hour or two. An inflatable seat pad like Klymit's durable V Seat could be effective if you think your legs would fall asleep or your lower back would be in pain without some extra cushioning.
Who is Spirit owned by? ›
After a months-long bidding war, JetBlue Airways has agreed to buy Spirit Airlines for $3.8 billion. The deal, which was announced in July and approved by Spirit shareholders on Wednesday, would create the fifth largest airline, behind American Airlines, Delta, United and Southwest.
Is Spirit a safe airline 2022? ›
They Passed FAA Certification

Spirit Airlines is certified by the Federal Aviation Administration and hence can be considered safe.
Does Spirit Airlines cancel flights often? ›
Spirit Airlines

Just over 82 percent of its flights were on time last year, while 17.96 percent of its flights were delayed, Family Vacation Guide notes.
Are seats on Spirit free? ›
Spirit will randomly assign you a seat at check-in for free, but we can't guarantee that you'll get to sit with your friends or family. You can purchase a seat assignment and choose the seat you really want. Seat assignments start at just $5 and vary according to specific routes and location in the aircraft.
How many times has Spirit crashed? ›
According to airsafe.com, Spirit Airlines has never had a plane crash in its 30 years of operation.
Spirit Airlines was acquired by JetBlue Airways for $3.8B on Jul 28, 2022 . This deal was done in Stock .
Why is Spirit having so many cancellations? ›
Spirit has canceled more than 2,000 flights since Sunday due to a combination of staffing shortages, bad weather and technology problems. CEO Ted Christie apologized and vowed to improve staffing and scheduling.
Does Spirit have less leg room? ›
They boast a 36-inch pitch (plus curved seatbacks to offer more room for your knees) and an 18.5-inch width, which means you can enjoy 6 more inches of legroom than a standard seat.
Is Spirit a 3 star airline? ›
Which airline cancels the most flights? ›
American Airlines has canceled the most flights among major U.S. carriers with more than 19,000 cancellations, according to Reuters, followed by Southwest Airlines with more than 17,000 cancellations. Delta Air Lines had the fewest cancellations with only about 10,000 canceled flights.
Does Spirit give free water? ›
There is no complimentary beverage or snack service on Spirit flights. Doing this helps us to keep prices low for all of our passengers. We do not offer any special dietary meals; however, our menu selection still provides a range of options that should meet most dietary requirements.
Is Spirit known for losing luggage? ›
5. Spirit Airlines. Although Spirit Airlines mishandled only 3,516 bags in the reported month, it's mostly a reflection of their low flight numbers and the number of passengers actually checking bags. The share of bags lost, stolen, delayed, or damaged is 4.21 per 1,000 bags, which is similar to Southwest Airlines.
Are Spirit flights always full? ›
There's likely to be a large crowd of people at the boarding gate, because Spirit flights are generally pretty full. As with travel on any airline, it's best to just sit and relax until your boarding zone is called.
How long has Spirit been flying? ›
Spirit Airlines Company History Timeline. The airline service was founded in 1983 in Macomb County, Michigan, by Ned Homfeld as Charter One Airlines, a Detroit-based charter tour operator providing travel packages to entertainment destinations such as Atlantic City, Las Vegas, and the Bahamas.
How many planes does Spirit have? ›
Spirit Airlines currently has a fleet of 168 aircraft with an average age of 6.9 years old.
Spirit Airlines shareholders voted Wednesday to approve a merger with rival JetBlue Airways, a deal that would create the nation's fifth-largest carrier but one that will face scrutiny from federal regulators.
Which airline is the best to fly? ›
How much is a checked bag on Spirit? ›
Does Spirit charge for carry on? ›
Spirit allows passengers to bring 1 personal item for free but it charges for standard carry-on. During Booking: Spirit Saver$ Club — $59 to $68. Standard — $60 to $69.
Does Spirit pay for hotel if flight Cancelled? ›
Passengers do not have to pay anything if they cancel their flight 24 hours or a week before the scheduled departure time. If Spirit Airlines cancels flights today, the airline will give free lodging to Flyers ( on the same day of your journey).
Will Spirit refund you? ›
We do not offer refundable fares – it helps us to keep prices low for all of our passengers. But you can change or cancel a reservation anytime via the My Trips tab on Spirit.com.
What does Spirit allow for free? ›
Spirit Airlines (NK) allows 1 personal item (purse, briefcase, laptop bag) per passenger fee free. Carry-on should not exceed the following size and weight restrictions: 50 linear inches (22 x 18 x 10 in) or 127 centimeters (56 x 46 x 25 cm) including handles and wheels.
Do you have to pay for bags twice on Spirit? ›
You can bring one personal item free on Spirit, but additional carry-ons and checked baggage are extra in order for Spirit to keep fares low. The price depends on when you pay for your baggage. If you pay during booking, a standard carry-on will set you back $35 to $40, depending on your route.
What does a Spirit ticket include? ›
Standard Fare

This means Spirit's basic fare includes the most standard seat and 1 personal item. No refreshments, no seat recline, no Wi-Fi, etc. Spirit claims this generally lowers the cost of your ticket since with most other airlines all of these "frills" are included in your base fare, even if you don't want them.
Has TUI ever had a plane crash? ›
A TUI plane was forced to return to Manchester Airport after "a very big bang" was heard as it crashed during take off.
The annual risk of being killed in a plane crash for the average American is about 1 in 11 million.
Which airline has never crashed a plane? ›
Qantas. Australia's Qantas Airways is often regarded as the safest airline in the world and was even referenced in the 1988 film Rain Man as having never had an aircraft crash. However, this is not true as a number of its aircraft have crashed.
Are Spirit and United the same? ›
Thinking about choosing Spirit or United Airlines for your next flight? The quick answer is that United offers more pre-flight and in-flight than Spirit, and they have significantly more flights and destinations to choose from.
Are spirits seats smaller than delta? ›
No matter what Spirit flight you're taking, the Big Front Seats are … well, big. Much, much bigger than what you'll find at the back of the plane – and if you ask me, bigger than most of the domestic first class seats you'll find flying the likes of Delta, United, or American.
Does Boeing own Spirit? ›
Background. Prior to being acquired by Onex in 2005, Spirit AeroSystems, Inc. ("Spirit") was the captive aerostructures division of The Boeing Company, with its primary facility based in Wichita, Kansas, and with Boeing as its sole customer.
Why does Spirit Airlines have so many delays? ›
Spirit Airlines is still trying to rebound from weather challenges, system outages and labor shortages, which has so far resulted in weeks of travel disruptions for thousands of passengers around the nation.
Does Spirit leave the middle seat empty? ›
Do Spirit flights have bathrooms? ›
Actually Spirit passengers don't just pay for food. They have to pay for water and carry-on bags, which is often a shock for unprepared passengers. But seats and toilet access are completely free, Berry added. "If it's something you need as part of the flight, it's included.
Which airline has the smallest seats? ›
Air Asia has the shortest seat pitch in economy, at 29 inches. Forty years ago, seat pitch was 31 to 35 inches. Seat width was approximately 18.5 inches.
What is the only 1 star airline? ›
Air Koryo is North Korea's only airline. It is constantly referred to online and by the media as being the "only one-star airline" or the "worst airline in the world". Allow us to help you get to the bottom of this.
Of the three largest U.S. carriers, Delta is the safest to fly, followed closely by American Airlines, then United. If flying a budget airline, Spirit and Silver Airways are the least safe, whereas Frontier, Allegiant and Sun Country are the safest.
Which airline is a 5 star? ›
In 2022, these ten airlines are ANA All Nippon Airways, Asiana Airlines, Cathay Pacific Airways, EVA Air, Garuda Indonesia, Hainan Airlines, Japan Airlines, Korean Air, Qatar Airways, and Singapore Airlines.
Are Spirit Airlines Safe? ›
For your information; Spirit Airlines has an excellent safety record. The airline has never had a fatal accident in its history. Spirit was ranked as the second safest low-cost airline globally by JACDEC in 2019.
Which airline has the most cancellations UK? ›
Is Spirit cheaper than other Airlines? ›
Traveling with Spirit is cheap if you pack uber-light — and pack your own snacks. For budget travelers who can plan ahead, Spirit can be a deal. But pay attention when booking, because your "cheap" Spirit flight might cost more than a ticket on any of the other airlines.
What is the most low cost airline? ›
Why is Spirit Airlines so expensive? ›
Spirit airlines offer the lowest base fare possible to passengers, however, the fare does not include any other services like baggage, meals, etc. Passengers have to purchase these as extras and thus have to pay some extra dollars that eventually add to the base fare and the overall ticket price increases.
What is the cheapest type of airline? ›
How much is a bag on Spirit? ›
Which airline is the poorest? ›
Viva Air Colombia

Colombia's low-cost airline received an overall airline index of 3.4 out of 10 and won the title of the worst airline in the world. It carries 22.55 million passengers annually and operates 40,000 flights in a year according to Bounce.
What is the easiest airline to fly? ›
The easiest planes to fly overall include the Cessna 172 Skyhawk, Beechcraft Skipper, Piper PA-28 Cherokee, Cessna 150/152, Diamond DV20/DA20 Katana, Ercoupe 415-C, and Diamond DA40 Star. The easiest commercial plane to fly is the Boeing 747 and the easiest military aircraft is the F-22 Raptor.
Is it better to fly Spirit or united? ›
Thinking about choosing Spirit or United Airlines for your next flight? The quick answer is that United offers more pre-flight and in-flight than Spirit, and they have significantly more flights and destinations to choose from.
What makes Spirit Airlines different from other Airlines? ›
Spirit Airlines prides itself on offering "unbundled" fares. In a nutshell, this means advertising the lowest possible rate as a base fare. Spirit then gives customers the ability to add options that it calls À La Smarte options. This means Spirit's basic fare includes the most standard seat and 1 personal item.
What are the benefits of Spirit Airlines? ›
When you join the Spirit Saver$ Club®, you'll get exclusive access to some of the lowest fares available, as well as discounted prices on bags, seats, and other options such as shortcut security, shortcut boarding, and flight flex. Plus, you'll get special deals that are only available to our Saver$ Club members.
What are the top three 3 costs for airlines? ›
The biggest costs for airlines include labor, equipment, and fuel.
What is the cheapest airline in Europe? ›
Ryanair is the largest low-cost airline in Europe and second largest in the world. An Airbus A319 of easyJet, the largest budget airline in the United Kingdom.